In the dark on how to make your website optimized for social media? We tend to hear all about search engine optimization (SEO) best practices but not so much about the effects of social media optimization for SEO. Bottom line is this: The more your content spreads, the more optimized your website is. Here is a list of best practices that we've discovered will help your website reach its full potential.
Integrate your blog into the main domain.
As inbound marketers, our number one priority is driving web traffic. We do this primarily by blogging regularly and promoting those links in social media. But if your blog is hosted on platforms such as Blogspot or WordPress.com, you are likely driving traffic off of your site and onto theirs. For instance, if our blog location was keelysaye.wordpress.com, our traffic would be going to WordPress. You can, however, pull your WordPress.org blog into your main domain so that every new post contributes to one page of depth for your website. KeelySaye.com is a WordPress blog, but it's pulled into our main domain. Make sure that whatever is in front of your .com or .org is your domain, and you should be good to go.
Click here for more information on the differences between WordPress.org and WordPress.com.
Install share buttons above each blog post.
Make it as easy as possible for readers to share your content. Around every turn and on every page, feature the "share" buttons ABOVE your articles so they are not easily overlooked. Better yet, feature the most popular share options as larger graphics with the less popular options as a drop down. There are a variety of sharing platforms such as AddThis or AddToAny, but check the Social Media Examiner's article on 8 Ways to Use Social Share Buttons on Your Blog for more info.
Feature your social media links on every page of your website.
Even the most customized websites have built-in templates where certain content never changes. Whether it's in the masthead, footer section, right or left hand column, be sure to feature all of your social media links in a static area of your website where viewers don't have to scroll to find it. TalkAboutGiving.org has a great example of best use of social media links in the top right hand corner of the masthead. You'll also see a great example of our next tip, the "subscribe by email" function.
Offer a subscribe by email function.
Many internet users haven't yet adopted the use of RSS reader platforms such as Google Reader, so when you offer RSS subscriptions, offer a subscription by email like TalkAboutGiving.org has in the above example.
Subscribe to RSS function.
Although the "subscribe by email" function is a great way add extra incentive for engagement on your website, many still prefer to subscribe to RSS feeds by using simple reader platforms. For those of us who can't handle any more emails in our inboxes, Google Reader is a life savor. So be sure your RSS button is predominantly placed with the rest of your social buttons like the TalkAboutGiving.org examples above.
Create conversion campaigns quarterly.
As inbound marketers, our number one priority is driving web traffic. Our number 2 priority is converting that traffic into leads. You convert traffic into a leads by getting visitors' contact information or capturing them as fans or followers in your social networks. This allows you to follow up with them and nurture the relationship into something more…a sale, an advocate, or donor maybe. We recently worked with the South Carolina State Farmers Market to convert over 2,600 visitors into Harvest Society subscribers, all of which opted in to receive text messages or emails about fresh produce and upcoming events. Since the campaign launched in March 2011, the market's Facebook page also gained over 2,200 fans.

Every conversion campaign needs a landing page.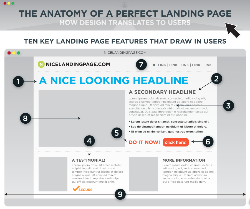 Some web developers use content management systems (CMS) that are pretty difficult for the average layperson to use. So when it comes to making changes to your site on the backend, you have to rely on them and pay them to make those changes. At KeelySaye.com, we typically recommend executing at least four conversion campaigns every year for our clients, and this requires the development of at least four landing pages. Don't get stuck having to pay your web developer thousands of dollars for each landing page you need developed. Request a landing page template that you can create yourself with proper training on their CMS platform, and check out best practices for landing page optimization and design before settling on a template.
Feature your conversion campaign on every page of your website.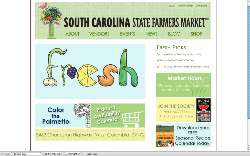 During a conversion campaign, we drive traffic to every page of a website with the hope that the traffic will convert in a lead. Google typically sends visitors to the home or contact pages. Blog posts drive visitors to the blog. We want visitors to navigate throughout our website, but ultimately, we want those visitors to convert. So when doing a conversion campaign, maximum exposure on every page of your website is key. The main imagery for your campaign should be prominent on every page and link to the conversion campaign's landing page. See how the South Carolina State Farmers Market features the Harvest Society on their website for a good example.
Use Google Analytics
The number three priority for inbound marketers is analyze, analyze, analyze.
Blogging regularly, conversion campaigns and good social media strategies should drive traffic and increase your website's popularity in search engines. But be sure to check your analytics on a regular basis. During campaign times, check visitor traffic weekly. If you don't see any spikes in traffic, then you may want to tweak the campaign. Check traffic sources to make sure your social media efforts are paying off. If you don't see Twitter or Facebook referring more traffic to your website, then you may want to re-think your social media strategy. Bottom line, do more of what's working and less of what's not. Google Analytics is free and provides daily statistics on your web traffic.
Use Facebook Insights
Just as Google Analytics measures traffic on your website, Facebook Insights is useful for measuring user and interaction data on your Facebook business page. Be on the lookout for positive spikes and negative spikes, and tweak your social media strategy accordingly. For instance, when you see a spike in "Likes", do more of whatever you were doing during that time. But if you see spikes in your "Unsubscribes", try to pin point what turned your audience off and discontinue those practices. We've noticed that posting more than two or three times a day in Facebook will likely cause the "unsubscribe" rate to spike as well as self-proclamatory content. Consumers can sniff out a marketer from a mile away, so position yourself as a resource rather than a marketer, and you should be okay.